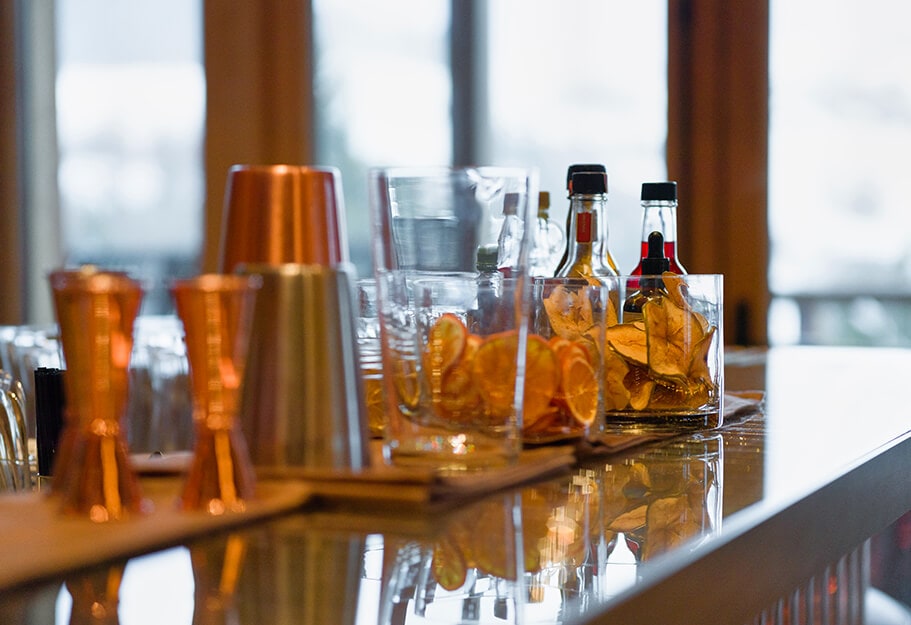 EPICUREAN SOPHISTICATION AND ELEGANCE
Bar Edmond is the ideal place to relax and enjoy a fine wine or cocktail in an atmosphere that is both sophisticated and true to the mountain chalet spirit, cosy by day and bustling by night. Guests can visit this welcoming space, open from morning until late at night, to discover a varied and refined cuisine. They can now also enjoy afternoon tea, while in the early evening the bar becomes a vibrant hub, with various live music shows during the school holidays.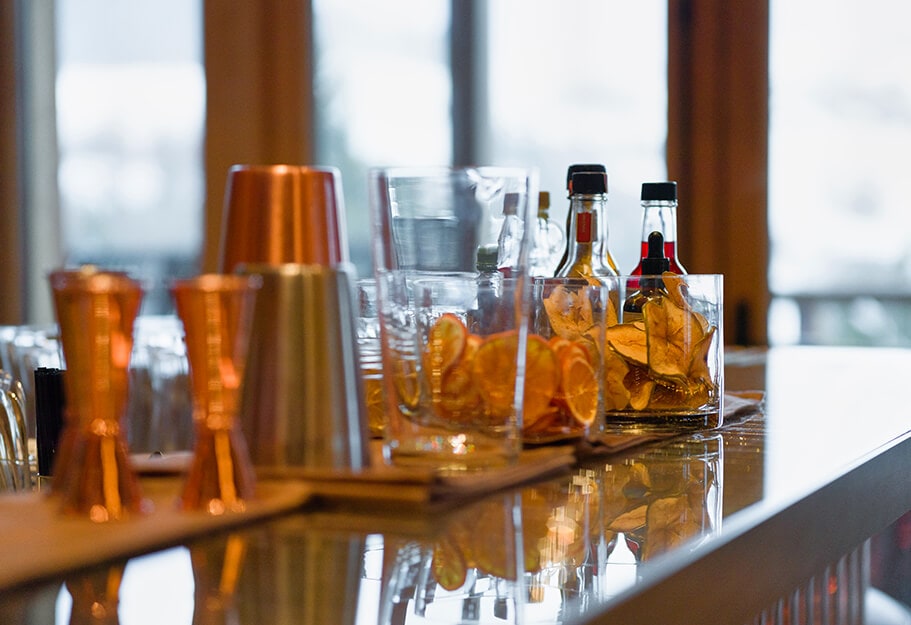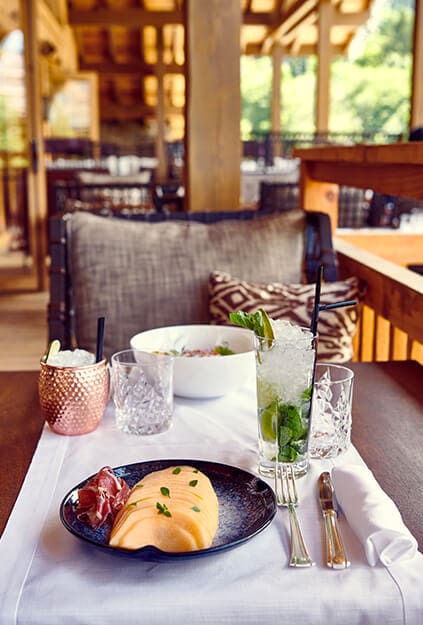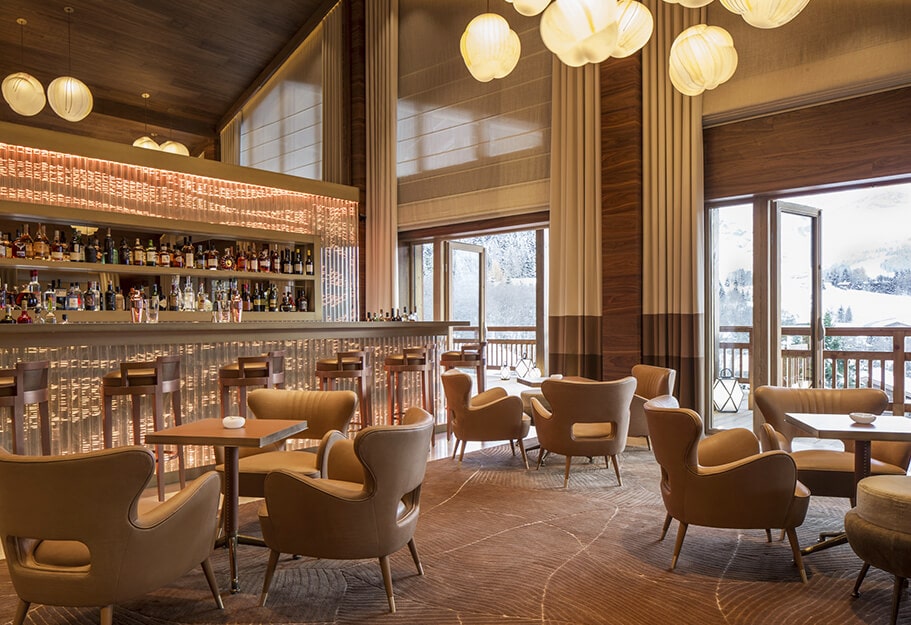 Bar Edmond boasts a unique, elegant design that creates a warm and relaxed atmosphere. The décor uses warm tones for its tweed sofas, natural leather armchairs, animal skin cushions and curtains in bands of colours ranging from ivory to chocolate. The bar's glass counter, made of LED‑illuminated glass tubes, creates a striking visual. The intimate outdoor terrace offers an absolutely breathtaking view of the surrounding mountains.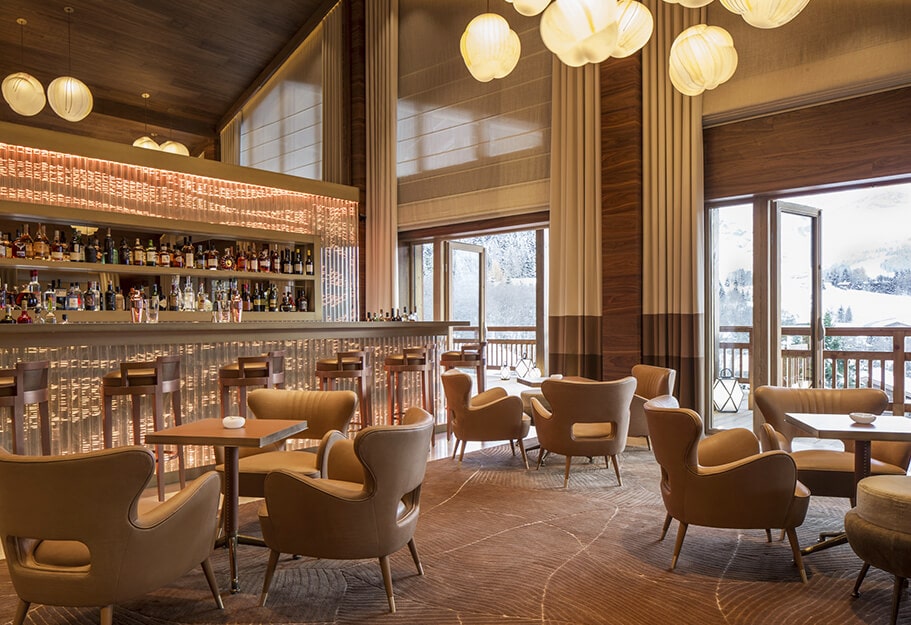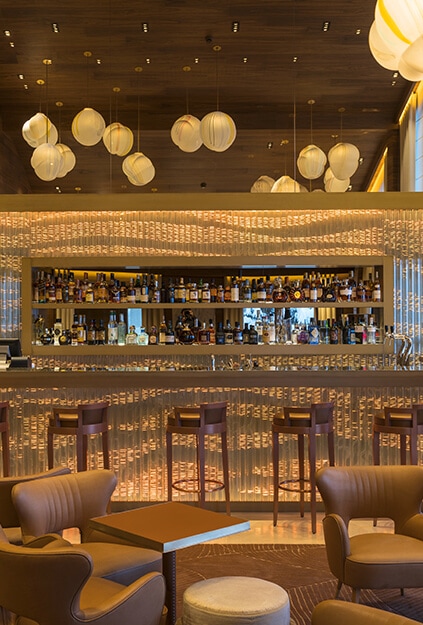 Starters
6 piecesHomemade smoked salmon, blinis and dill cream
Spicy cod fish cake, duck breast finger and foie gras
Prices are nets, service included
Snacks
Homemade smoked salmon, blinis and dill cream
Duck foie gras, toasted farmhouse bread and chutney
Deviled egg and Kristal caviar
Pan-fried duck foie gras, mesclun with old balsamique vinegar
Local cured ham assortiment
Salads
King crab, lettuce, avocado and grapefruit
Classic grilled chicken Caesar salad
Lamb's lettuce salad and black truffle
Brittany lobster, iceberg salad and coral sauce
Prices are nets, service included
Desserts
Crunchy choux bun filled with toffee
Saint-Honoré cake, Madagascar vanilla and marinated grapefruits
Charlotte cake with Tulakalum chocolate
Selection of ice creams and sorbets
Full allergies information is available for all our dishes.
Main courses
Sole meunière with steamed potatoes
Roasted scallops « à la normande », rice pilaf
Slow cooked lamb shoulder and polenta
Roasted free-range chicken with amber yellow wine sauce and mashed potatoes
Beef rib steak, french fries and béarnaise sauce
Coquillette pasta with ham and black truffle
Essentials courses
Savoyard burger, homemade French fries
Kebab wrap, French fries and oriental white sauce
Choice of club sandwich: Chicken, salmon or vegetarian
Tagliatelle napoletana, Bolognese or carbonara
Tagliatelle with black truffle
Full allergies information is available for all our dishes.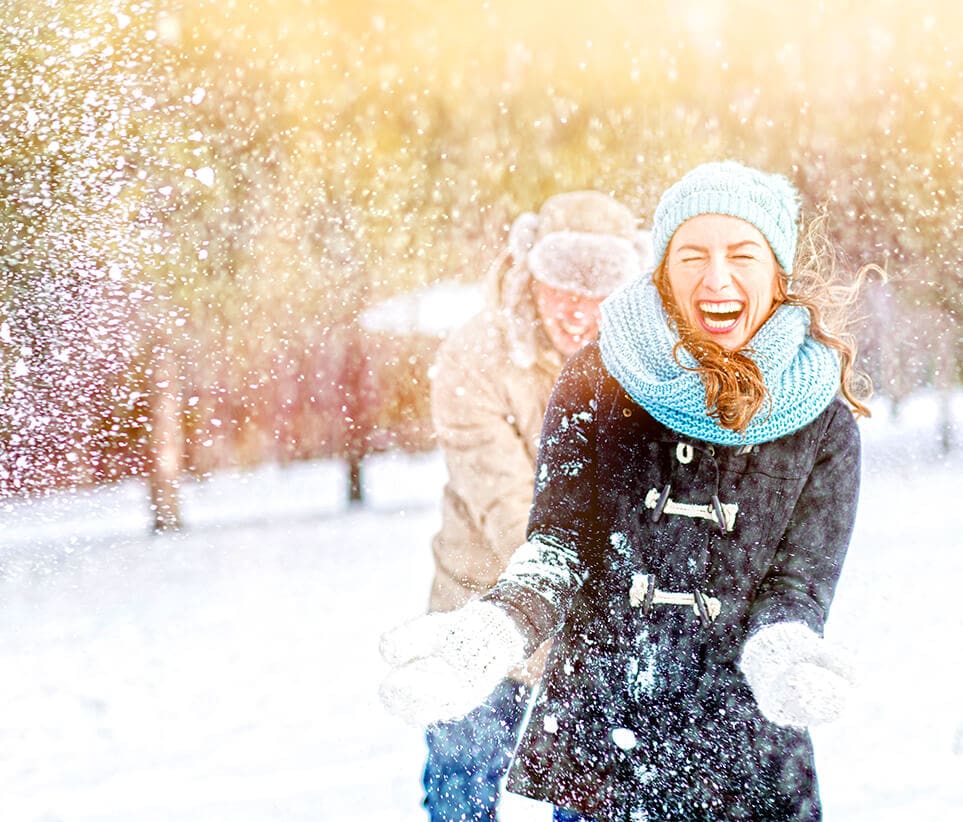 OUR SELECTION
ENTERTAINMENT AND ACTIVITIES
Enjoy your stay at the Domaine du Mont d'Arbois with our full range of entertainment and leisure activities.
Discover our
last articles