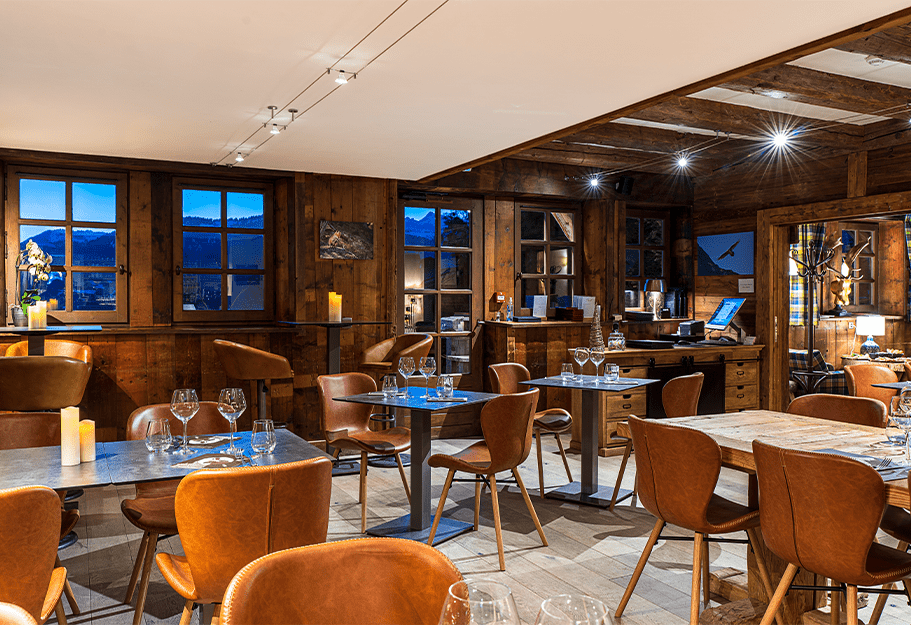 A charming restaurant
La Ferme du Golf's restaurant offers a family feel and authentic setting with simple cuisine combining regional produce and Edmond de Rothschild Heritage products.
Located in La Ferme du Golf, an old farmhouse that has retained all its yesteryear charm, our restaurant is ideally situated at the top of the Chemin du Calvaire, at the foot of the slopes and the Mont d'Arbois golf course.
Romain, the restaurant manager, and his assistant Lucie are committed to working with small producers to select the best local products and offer a gourmet and seasonal menu featuring regional dishes, Savoyard specialities, vegetarian dishes, and more. All year round, you can enjoy the view over Megève from the terrace or in the warmth of our restaurant's dining room, decorated with prints by a local photographer.
To accompany your meal, Romain and Lucie have also selected some unique wines, having unearthed the little gems of the region as well as the better known Edmond de Rothschild Heritage vineyards.
SUMMER OPENING FROM FRIDAY 9TH OF JUNE TO SUNDAY 17TH OF SEPTEMBER 2023.
WINTER OPENING FROM FRIDAY 15TH OF DECEMBER 2023 TO SUNDAY 7TH OF APRIL 2024.
Open every day except on Wednesday
Lunch from 12:00p.m; to 2:00p.m.
Diner from 7:00p.m. to 9:00p.m.
Every Thursday for diner, discover our unique indian menu. Every Saturday, come enjoy our "plancha" lunch on the terrace, according to the weather.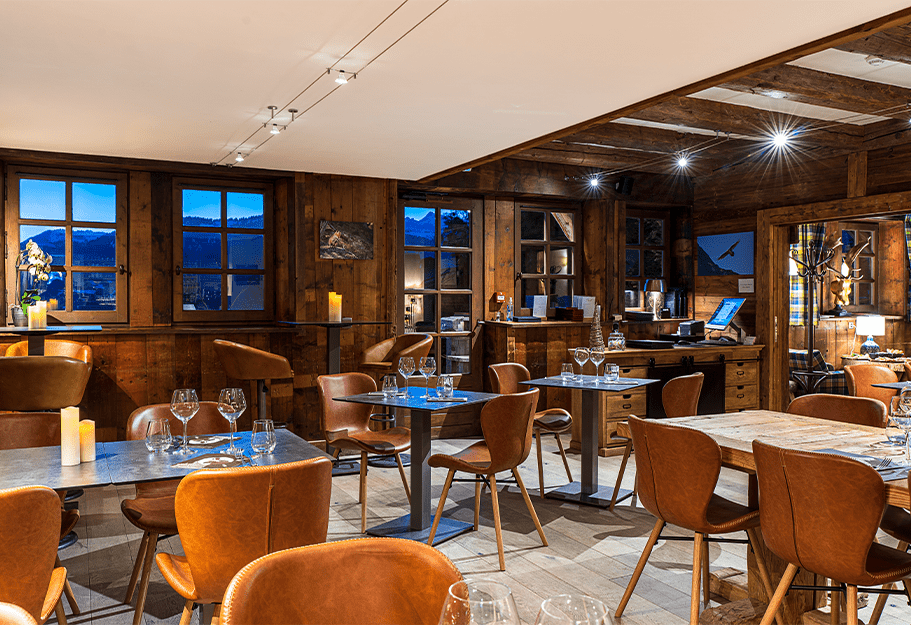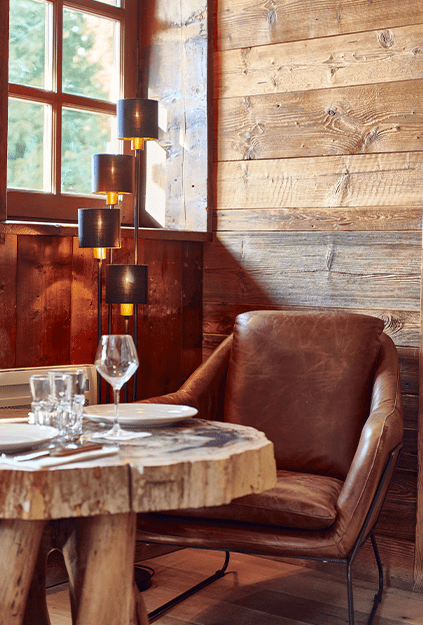 To share (or not)
Charcuterie board from Pelizzari (Haute-Savoie)Cooked ham, cured ham, dried filet mignon, dried sausage
Cheese boardTomme of goat, Reblochon, Brie de Meaux Fermier AOP, Merle rouge, Tomme de Savoie
Mix boardCharcuterie and cheese board
La Ferme's boardRaw vegetables (carrots, cauliflower, cucumbers, cherry tomatoes) served with 3 home made dips (black olive
tapenade, hummus and herb cream)
Dried sausage (180g) from Pelizzari (Haute-Savoie)Plain, smoked, hazelnut
Vintage sardinesSelected by La Perle des Dieux (Vendée)
Terrine of the moment from La Source du Verger (Savoie)Flavour : genepi, beaufort cheese, blueberries or muschrooms
Vegetable tempura (gluten free)served with sweet chili sauce
Starters
Homemade Andalou gaspachoTomato, cucumber and bell pepper
Melon tartar, basil and smoked ham
Trio of tomatoes with creamy burrata
Starter
Savoyarde saladLettuce, button mushrooms, cherry tomatoes, sunflower seeds, Raclette cheese toast
Summer saladQuinoa, local goat cheese, bell peppers, cherry tomatoes, cucumbers, radish, mint served with a lemon ginger and shallots vinaigrette
Lake Geneva salad Lettuce, trout gravlax, cucumbers, radish pickles and dill fresh cream
"Romaine" saladRomaine lettuce, crispy chicken pieces, garlic crouton, parmesan shavings, creamy parmesan sauce
Main course
Savoyarde saladLettuce, button mushrooms, cherry tomatoes, sunflower seeds, Raclette cheese tosat
Summer saladQuinoa, local goat cheese, bell peppers, cherry tomatoes, cucumbers, radish, mint served with a lemon ginger and shallots vinaigrette
Lake Geneva salad Lettuce, trout gravlax, cucumbers, radish pickles and dill fresh cream
"Romaine" saladRomaine lettuce, crispy chicken pieces, garlic crouton, parmesan shavings, creamy parmesan sauce
Main courses
Butcher's choice cut With its maître d'hôtel butter, served with French fries and lettuce
Tagliatelles of the momentTagliatelle pastas of the moment
Leman lake trout filet With fresh green beans and black rice
Abondance cheese omelet Served with green salad (ham or mushroom in extra 3€)
Burgers
The Ugly DucklingBrioche bread, duck confit, caramelized onions, tomme of Savoy cheese, lettuce and Espelette pepper mayonnaise, served with french fries
The Farm BurgerBrioche bread, beef paddy 180g, bacon, reblochon cheese, lettuce, and homemade barbecue sauce, served with French fries
Local cheesy food
Fondant d'ArlyServed with potatoes, local charcuteries and lettuce
Traditional raclette, for 2 people or more (on reservation)With potatoes, local charcuteries and lettuce
Smoked raclette, for 2 people or more (on reservation)With potatoes, local charcuteries and lettuce
Savoyard fondue (Abondance, Beaufort and Meule de Savoie), for 2 people or moreWith local charcuteries and lettuce
Savoyard fondue with porcini mushrooms, for 2 people or moreWith local charcuteries and lettuce
Desserts
Selection of regional and family cheeses
Home made crêpesNocciolata, local jams or sugar
Blueberry pie from the Délices of MegèvePastry artisan from Megève
La Ferme ice cream cupGenepi ice cream, blueberry sorbet, blueberries in syrup, whipped cream
Scoop of ice creamIce cream perfumes: vanilla, salted butter caramel, coffee, genepi, chartreuse
Sorbet perfume: lime, chocolate, blueberry, red fruits, basil
Mains
Ham with a side dishSide dishes to choose from: pasta, seasonal vegetables, black weat rice, fries, lettuce
Beef patty with a side dishSide dishes to choose from: pasta, seasonal vegetables, black weat rice, fries, lettuce
Trout with a side dishSide dishes to choose from: pasta, seasonal vegetables, black weat rice, fries, lettuce
Desserts
Home made crêpesNocciolata, local jams or sugar
Yaourt of SavoyNature or fruit
MENU
Main course and dessert: 14.00€
Discover our
last articles